It's that time of year again :D
the time the internet goes crazy for best-of's and you tend to remember all those things you should of done.
I am no different haha ;]
so here I'll tell you what I think are the best CD's for 2008 & why
the CD's are in no particular order btw, I'm not THAT picky haha :D
I'm pretty picky when it comes to deciding what i think of as worthy of a 'best of' title lol
I listen to way too much Neurosis & Converge to warrant anything lower than those with the love I give to them.
Some of here because I love them, others are up because they deserve a mention.
My reviews seem to lag about half way through, I get bored of writing as I have a short attention span haha.
1.
HAVE HEART - SONGS TO SCREAM AT THE SUN
I shall start with Have Heart.
You always know what to expect with hardcore really, it's not the most original of genres but that being said this album is nothing short of a masterpiece. Long gone are the posi-youth crew tendencies from their last 2 releases here we find a fully matured and progressive Have Heart.
There's not much I can say about the music as well, it's hardcore but it seems toned down a little with more perspective being placed on the vocals.
The lyrics are literally some of the best I have ever heard, we find that Pat delves deep into his past and writes about his dad / family and the trouble he had growing up, plus the magnific 'No Roses, No Skies' is the only hc song I've heard written directly for a girl.
The major stand-out track on this album though is 'The Same Sun' which is stunning, really really beautiful. At the end the lines "your sisters are starving, your brothers are begging
your mothers are mourning, your fathers are folding" are sung in the backround in some choir-esque-chant way whilst Pat continues to shout the rest of the song before it's astounding climax.
If you don't want this album atleast take the time to read the lyrics as they are fantastic.
http://www.loudson.gs/h/Have-Heart/songs-to-scream-at-the-sun
2.
THE BANNER - FRAILTY
The Banner got dark on this release, very fucking dark it seems.
They dispensed with the Zombie talk and general horror-punk outings of their last two releases and just got down and dirty with the dark times haha.
If you like Integrity, Living Hell & all things Deathwish Inc / Holy Terror infused then you'll like this I would hope.
Basically this is the best Metal-Hc album I've heard in a fucking long time.
The opener is a dirge of broken-stringed acoustic blues entitled 'Welcome Fuckers' which leads perfectly into the terrifying 'The Wolf' with it's haunting doom-laden opening chords & absolutely fucking crushing breakdown half way through. The album seems to take a lot from the doomy-bits with tracks like 'A Hellbound Heart' especially but just in general it just feels fucking heavy. Stand-out tracks are the previously two mentioned ones along with 'Sphrenia' (for the interesting take on a melodic ending), 'The Father And The Wayward Son' actually well fuck-it all tracks deserve merit just in their own way. But a mention does have to go to 'Dusk' for being breathtaking which I love, it starts off with far-off sung vocals and and ethereal guitar before suddenly (and I mean SUDDENLY) bursting into a climax which lasts the whole song.
Oh and as a last-note if you're a massive fan of breakdowns then next to August Burns Red these are the best I've heard.
One things for sure the terrible Ferret records does not deserve this band.
For Fans Of : Converge, Integrity, The general feeling of Deathwish Inc records, Melancholy and a heavy dose of Satan mixed with a pile of 'I fucking hate everything'
3.
SYLOSIS - CONCLUSION OF AN AGE
New album from UK based thrash metallers.
Mainly up because they need the exposure!
This is a fairly new one for me, only got it about a week ago but it's properly grown on me.
Not much to say about it as I haven't fully taken the time to listen to it properly yet but so far i'd certainly warrant it for best of a best of 2008 place.
The clean vocals in some parts are top-notch.
Just get it and see what you think haha
For Fans of: Thrash, Viatrophy, Himsa etc.
4.
LYDIA - ILLUMINATE
Resting up from metal for a minute we have the new release from Lydia.
I've liked this band since a friend of mine showed me the beautiful 'Smile, You've You've Won' from their last release.
With this release they have stopped all the cliches it seems to hold back potential alternative music and have gone on to make one of the most stunning, emotional pieces of music I have ever heard. Music to me is all about the atmosphere it creates, the feeling put into it and the feeling you get out of listening to it and so with this release Lydia have really nailed that on the head. The album isn't particularly exciting just beautiful. The lead singers voice may be girly but in a good way, you can feel every line he sings is genuine. The only gripe i have is that the girl (sorry, im never any good with band members names) who lent so much with her voice the their last release doesn't really get to shine on this for she really has too good a voice to be left out.
If you're a fan of post-rock, alternative stuff like Modest Mouse, American Football, Lydia will fit in perfectly.
This album was voted best of 2008 by Absolute Punk. net
http://www.absolutepunk.net/showthread.php?t=753922
so there's nothing that should stop you from getting it.
This band will lift you to the highest recesses of your heart, no bones about it.
5.
Hate Eternal - Fury & Flames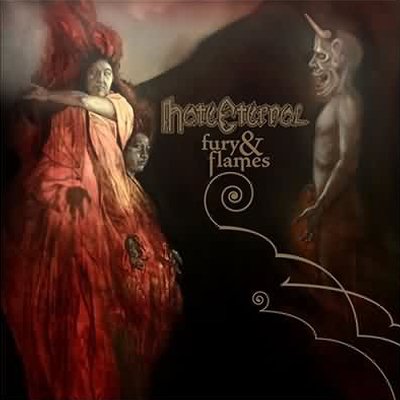 As my previous post on this band states, I fucking love them.
You can sound angry in the death metal but it's a genuine art to sound fucking terrfying.
And this is definitely their angriest to date. As you might know their bassist who was a very good friend to frontman Erik Rutan passed away before this release and it seems to have infused the band with more Hate that ever. But throughout it all it never loses a sense of melody and meaning, they manage to literally bind together misanthropy and melody to create a fine monster of an album.
I'm always a bit dubious of bands that are on Metal Blade and i really have no reason to be, they always release such fine records and this is no exception.
If you like your death metal brutal then seriously look no further.
6.
Flight Of The Conchords - S/T
I'm putting this up purely because being introduced to this band was great moment haha.
Flight Of The Conchords are a two piece acoustic act from New Zealand who sing comedy songs which stem from sketches in their sitcom but can be lifted out and are just as good. If you're a fan of Mighty Boosh-esque humour you'll probably already know about these but luckily they dont just fall into that strange non-sequitor style humour the Boosh are famous for. Their songs are accessible to everyone.
Here is "Hiphopopotamus vs. Rhymenoceros" & "If You're Into it" to give you a basic idea
enjoy!
7.
Krisiun - Southern Storm
Currently one of the finest Death Metal bands out there, I only got this album recently but it's been a real highlight. Inventive song writing & great vocals.
If you like your Death Metal to have something about it then definitely get this "Sentenced Morning" is one of the finest death metal songs i've heard.
8.
Life Long Tragedy - Runaways
Fuuucccckk! I love this band.
Life Long Tragedy used to be the epitome of Positive Hardcore, their lyrics were uplifting and songs such as "Sweeet Innocence" with it's intelligent lyrics & original song structure showed they had enough Modern Life Is War influences to keep them perpetually innovative. Seeing them in Hull was a fucking great moment.
BUT
with this, literally all hope seems to have been abandoned.
This is the sludgiest, dirtiest, most negative, world-weary misanthropic record i've ever heard. Deathwish Inc has a habit of doing that to bands haha.
Something bad happened to this band when between their first release and this one, something very bad haha. Whereas you used to get songs proclaiming life as an undisputed long highway for us to all find our way on we have it now perceived as a arduous walk towards death.
But this is no bad thing, if you're fed up of posi-hc and want to really feel true reality that is waking up to a world properly fucked whilst being haunted by the demons in your soul, this is your record. It's heavy, in the heaviest of heavy-hearted senses.
If you like what Deathwish Inc does to hardcore bands, which i do (watching it happen to The Carrier was interesting) then get this.
For Fans of: Modern Life Is War, Misanthropy.
Albums I also thought were great this year
- All Shall Perish, Awaken The Dreamers
- Supercontinent, Vaalbara
- Architects, Ruin
- Killing The Dream, Fractures
- Misery Index, Traitors
- BMTH, Suicide Season
- Elysia, Lion Of Judas
I'll probably keep adding to this, so keep checking back :]
thanks!